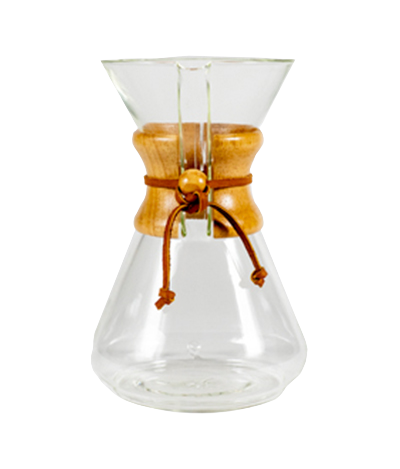 Chemex Brewer
Details
Equipment:
Classic and elegant brew method yields a perfectly balanced cup of coffee, due to the conical shape as well as the scientifically designed bonded filters that are used.
About
Great for people who love the ritual of hand brewing coffee, and for coffee drinkers that like a clean and balanced cup. It's also a beautiful piece to display in your kitchen.
Made of non-porous borosilicate glass which ensures the natural flavor of your coffee without absorbing odors or chemical residues.
Available in 3, 8, and 10 cup sizes (note: 5oz. = 1 cup).
Requires Chemex filters.
You May Also Like
Free Shipping for orders over $75.
Press the tab key to access the content

Press the tab key to access the content

Press the tab key to access the content
Back to top