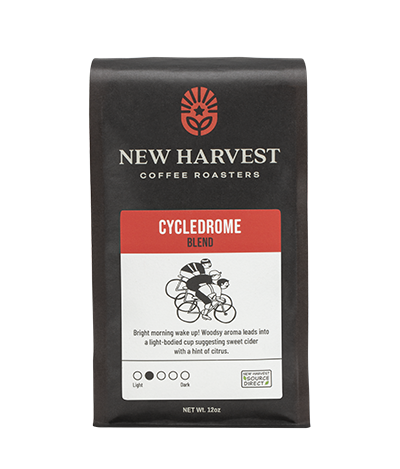 Cycledrome Mild Blend
Details
Blend
Flavor Notes: Woodsy aroma leads into a light-bodied cup suggesting sweet cider with a hint of citrus. Bright morning wake up! 

Designations: Source Direct
Components: Costa Rica La Rosa 


About this Blend
While all of our blends rotate ingredients throughout the year as fresh crops become available, this blend features light and medium roast Costa Rica La Rosa coffee as part of our Source Direct program. 
La Rosa comes from four farms located in the Naranjo district in the West Valley region of Costa Rica. Naranjo is divided into 29 coffee growing areas that are "blessed for coffee" enjoying near ideal growing conditions - soil, altitude, rainfall, and temperature - that combine to produce a unique coffee with delicate aroma, mild body and pleasing taste. The Cooperative has successfully improved the coffee production of its members and enhanced their communities socially, financially, and sustainably.
You May Also Like
Free Shipping for orders over $75.
Press the tab key to access the content

Press the tab key to access the content

Press the tab key to access the content

Press the tab key to access the content
Back to top