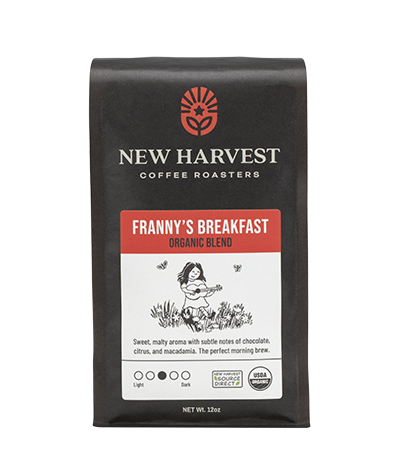 Organic Franny's Breakfast Blend
Details
Blend
Flavor Notes: Sweet, malty aroma with subtle notes of chocolate, citrus, and macadamia. The perfect morning brew. 

Designations: Organic, Source Direct
Components: Organic Honduras COMSA 


About this Blend
While all of our blends rotate ingredients throughout the year as fresh crops become available, this blend features Certified USDA Organic coffee from Latin America as part of our Source Direct program.
In 2000, sixty-two Honduran farmers joined together with a common goal to transform their farms from conventional to organic production and formed COMSA (Café Organico Marcala, S.A.). In 2001, fostered by a foundation called Funder, COMSA earned their organic certification from Bio Latina which has enabled them to market their coffee to more international buyers and realize better selling prices for their coffee. COMSA funds many local projects including paying teacher salaries and buying school supplies.
You May Also Like
Free Shipping for orders over $75.
Press the tab key to access the content

Press the tab key to access the content

Press the tab key to access the content

Press the tab key to access the content
Back to top